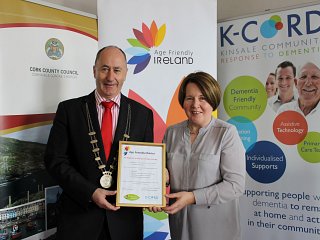 Market Place Surgery is proud to be an Age Friendly Business and we were recently presented with an Age Friendly Charter. 
Our surgery participated in the Age Friendly business recognition programme.  As Older Persons Champion for age friendliness, I participated in a workshop and undertook market research to assist with identifying changes and develop ideas for our premises. 
The market research involved distributing a questionnaire to find out how we could improve the patient visit to the surgery.  We reviewed the data and identified changes that could be introduced to make the surgery more Age Friendly.
The actions agreed were; clearer signage, a new noticeboard in the waiting room detailing events in the locality for older patients, providing a magnifying glass and magazines suitable for older patients in the waiting room.
The aim was to help us to improve the surgery experience for older patients and the actions and commitments that were agreed are now in place.  We do of course welcome ongoing feedback from all our patients.